This is an early 3D camera rig that was sold to us by equipment vendor Les Day in the late 1980s. We were informed it was one of the NaturalVision rigs used to film the original "House of Wax". There were around 13 NaturalVision films and shorts made during the early 1950s, including "Dial M for Murder" and "Bwana Devil" - so NaturalVision may have made various adaptations of their basic device during this period.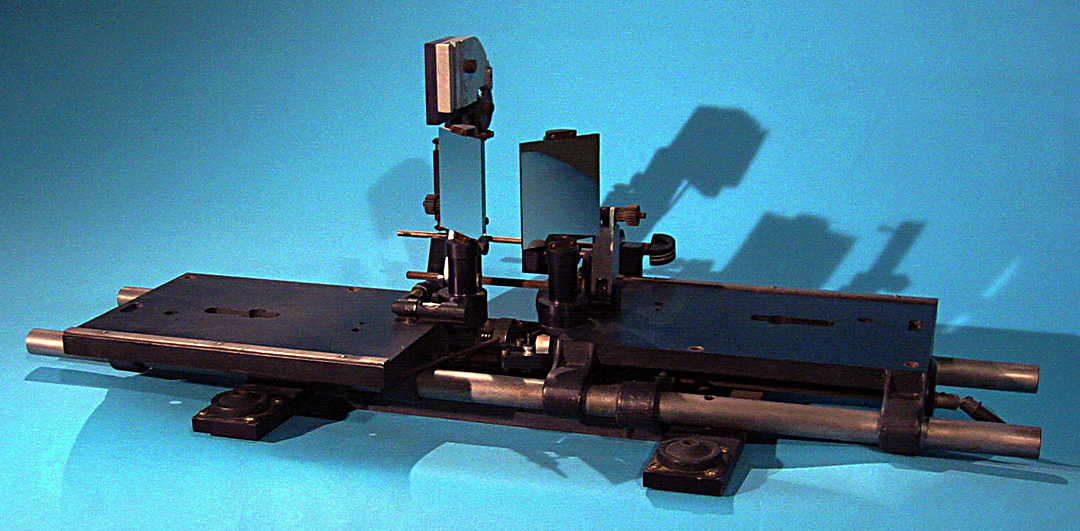 It's designed to hold two matching cameras pointing toward one another. In order to attain proper lens-interaxial distances with large camera bodies, both left and right-eye camera images are reflected in front-surface mirrors. This of course necessitated printing the resultant images with a left-to-right flop. In order to adjust the field widths of varying lenses to the fixed width of the FS mirrors, we added dovetail plates between the camera bodies and their respective bases. (as shown below with Mitchell GCs - unfortunately shown here without lenses or magazines - the cameras are not part of this package!)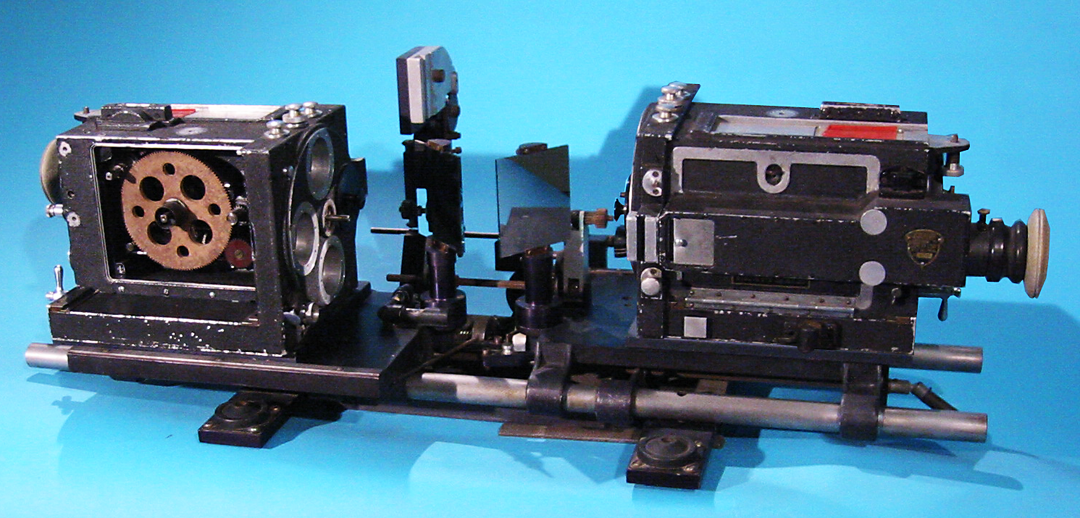 The two cameras are carried on platforms, each sliding on tubular rails and carrying the convergence mirror for that respective camera, permitting uniform centered adjustment of interaxial distance. The platforms are driven by leadscrews controlled by a knob at the rear of the rig. Gearing for these can be seen in the bottom center of the image below. Just in front of those gears you can see that convergence is driven by an eccentric cam shaft, with two springloaded followers.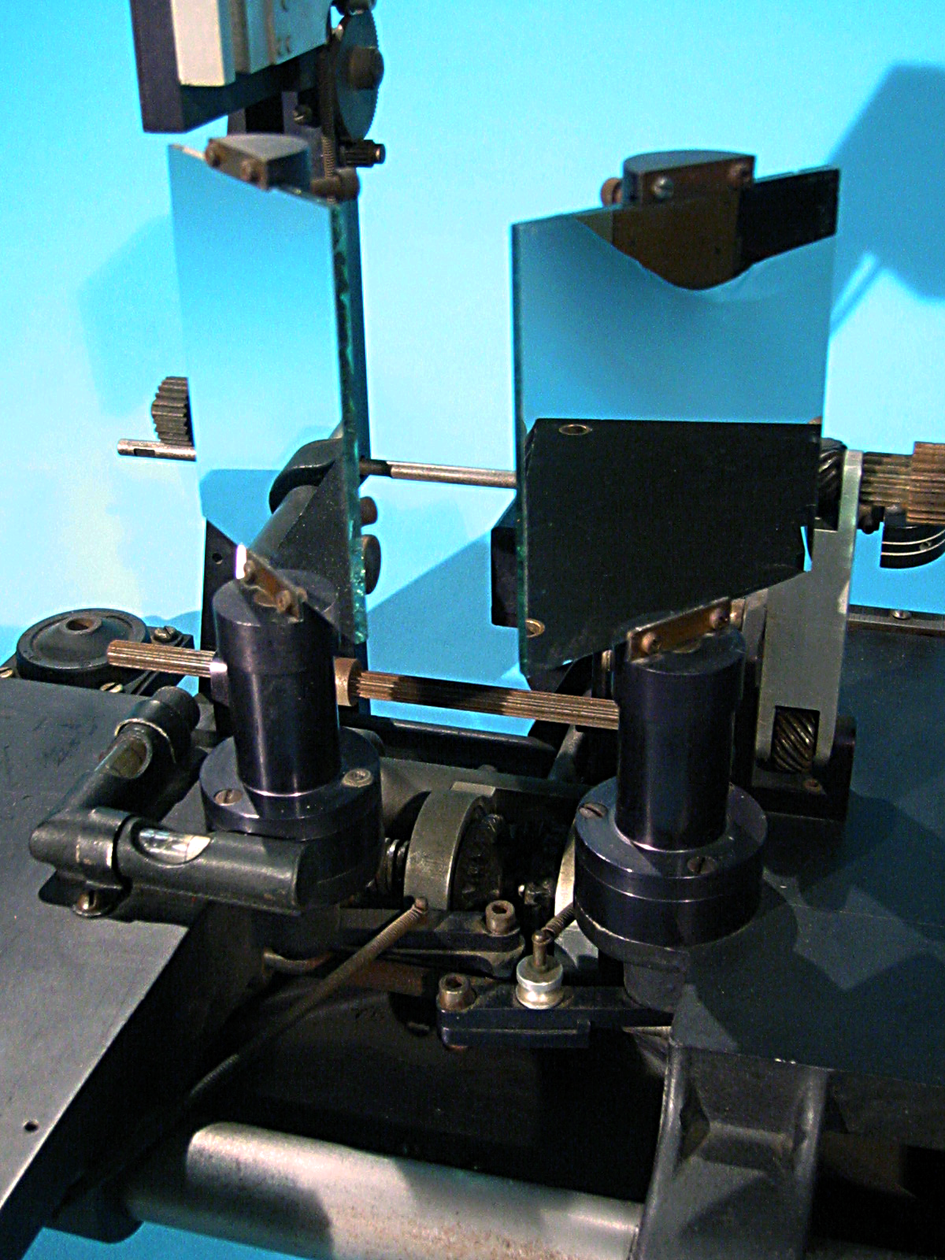 Looking straight down from the top of the mechanisms, you can see the interaxial adjustment knob at top center, and the convergence camshaft and followers at bottom center. At top right is a focus knob (our addition - NOT original!) with focus gearing kept common to both cameras via a sliding spline shaft. At top left you can see a dovetail mount for a (single-eye) viewfinder (not part of the rig). Of course, the viewfinder's parallax is vertically misaligned from the cameras - so a cam adjuster on this pivoting mount permits parallax to be adjusted to follow focus shifts automatically for different focal length lenses.
Another view of the focus drive system: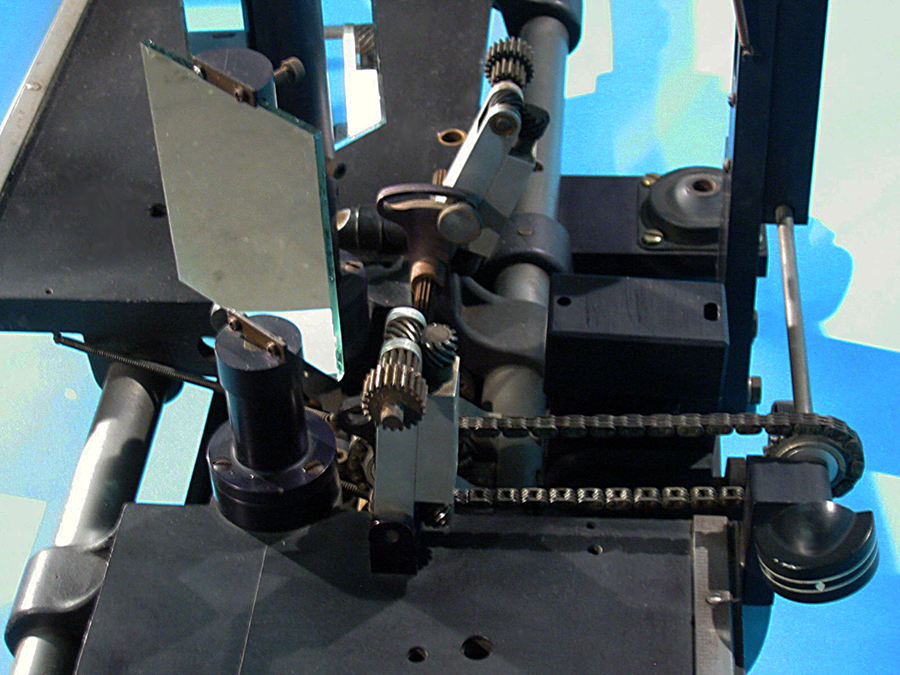 No provisions for synchronizing two cameras' drives were included with the rig.
3D historian Dan Symmes has informed us that this is not one of the original NaturalVision rigs but rather a subsequent model built by the same engineer. He is currently researching this unit's history.
He has kindly provided this shot of the rig at the engineer's shop, assembled but not yet anodized: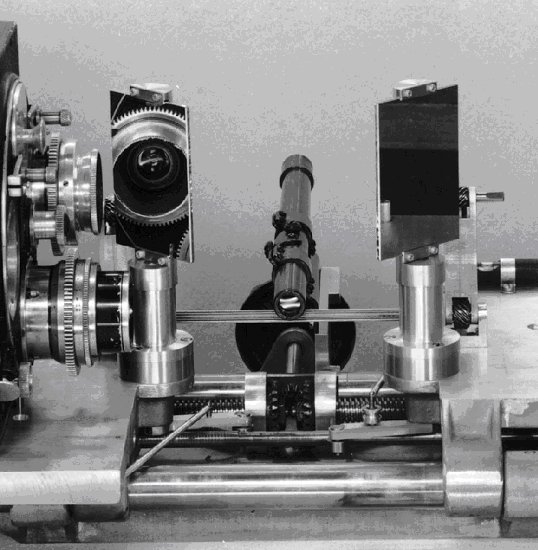 Any inquiries about this *NaturalVision* 3D rig can be directed to Mark Hardin / Motor Reflex:
motorreflex@roadrunner.com